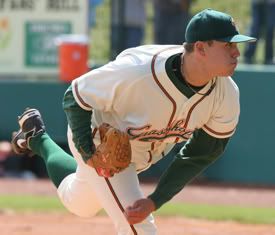 22. Graham Taylor -LHP - 6'3 - 226lbs
(last year: 23)



The Marlins drafted Graham Taylor in the 10th round of the 2006 draft and signed him for $10,000. He was a quick sign once he was drafted and got in 13 starts with the Jamestown Jammers. He went 3-5 with a 2.47era and a 0.96whip in 65.2 innings of work. In an environment where college players typically have more success than high school draftees, the former Miami Redhawk opened up a few eyes in his short stint in the NY-Penn League.
Graham continued doing that in 2007 with Greensboro as he was dominant all season long. In the South Atlantic League, Taylor was in the top 6 (or better) in innings pitched, era, strikeouts, walks allowed, and hits allowed. He led the league with a 0.93whip as well. The soft-tossing lefty got hit hard towards the end of the year in Jupiter, but those 10 innings are too small a sample size to read that much into it.
2008 was supposed to be a major test for Graham as he would begin the year in the Florida State League, the same place he struggled badly at to end 2007. Instead, Taylor stepped up his game and pitched fairly well in a pitcher's league. He would earn a late season call-up to Carolina and would hold his own in 5 starts in Double A.
Taylor has ordinary stuff. He throws a 86-89mph fastball with a solid changeup and slider. What he does have is deception and that's where all the strikeouts come from. Also is the fact that he has amazing command of all three pitches as he has walked just 60 in 404 minor league innings. Compare that to his 296 strikeouts and you wouldn't think that we have a finesse pitcher out there. He would be rated much higher but these types of pitchers normally thrive in the lower levels of the minors. He should face an even stiffer test in the Southern League, where he finished his 2008 season at. He's still not a huge prospect but at some point the numbers speak a bit louder than velocity does.